Based in Kingsport, TN
NYSE and S&P 500 quickly recover from the Holiday Season Blue's!

Throughout the weakness of 2018, the NYSE (a good measure of overall breadth of the US equities market) was leading the overall market down.  It reached critical support dating back to 2016 before most stock indices, which is why we focused on it for signs of a strong reversal.
See below, the NYSE graph posted in the December iInvest®Alerts, showing how quickly we had entered the "Support Zone".

NYSE entering the Support Zone – December 2018
See below, showing the NYSE currently bouncing hard off the Support Zone, and based on other signals we could potentially be marking a significant bottom.
NYSE bouncing off the Support Zone – Current

In the December 22, 2018 and December 28, 2018  iInvest® ALERTS we pointed out how the sudden December 2018 weakness was unprecedented based on history. This is because large institutional "smart money" program buying was happening throughout all of 2018 (in large quantities), defending levels between 2600 and 2700 on the S&P 500.
Based on history, this would normally tell us these levels should act as support going forward, which is usually a bullish development.
During December 2018, the S&P 500 quickly fell below the 2600 level but then quickly recovered, possibly telling us this was nothing but a "Flash Crash".
December 2018 Flash Crash

More Institutional "Smart Money" activity
Leading TICK and Cumulative TICK, another measure of institutional "smart money" activity, have been positive in 12 out of the last 13 sessions.
This is not only bullish for stocks, but an intermediate-term buy signal was also just triggered.  According to Quantitative Analyst Rennie Yang, this signal has occurred 22 times since the elimination of the uptick rule in 2007.
The S&P 500 was up 20 times, down 2 times one quarter (3 months) after the signal was triggered, and the gains were quite significant, in excess of 4+%.
Cumulative Tick-blue line (from Market Tells)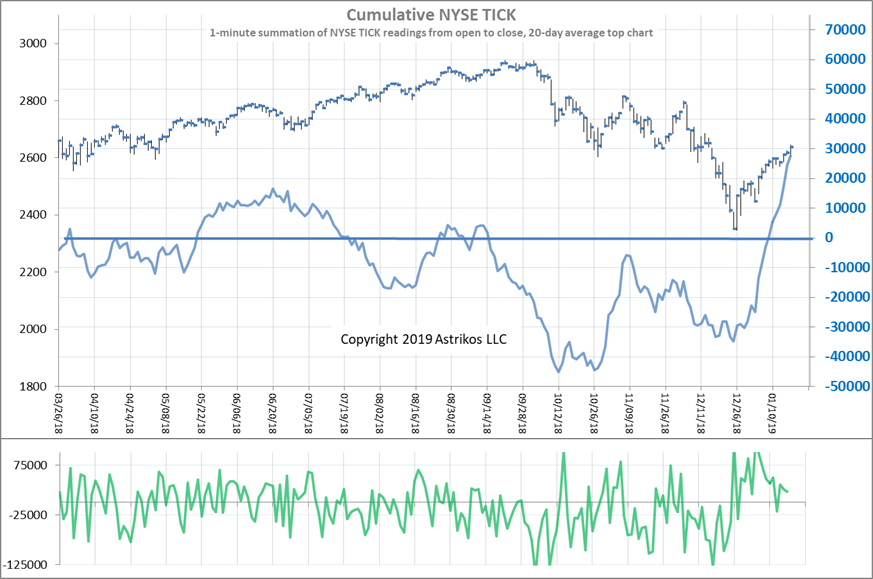 Stay tuned…
Written by Craig Dillon
– President
iInvest® Stock Market ALERT and Newsletter service provides the tools you need to navigate today's unpredictable markets. Click on the link below to signup for newsletters, ALERTS, and iInvest® Educationals for free!
You can view our iInvest® Stock Market ALERTS and Newsletters live via our free APP!

Transfer an existing IRA, Roth IRA or Brokerage account, or start a new investment account at iInvest® today!
We are a smarter, modern way to invest and offer an awesome user experience on all your devices.  Our investment platforms are designed to optimize performance at every risk level.
The iInvest® Team is here for you and excited to help reach all your financial goals.
iINVEST SOLUTIONS IS A REGISTERED INVESTMENT ADVISER. INFORMATION PRESENTED IS FOR EDUCATIONAL PURPOSES ONLY AND DOES NOT INTEND TO MAKE AN OFFER OR SOLICITATION FOR THE SALE OR PURCHASE OF ANY SPECIFIC SECURITIES, INVESTMENTS, OR INVESTMENT STRATEGIES. INVESTMENTS INVOLVE RISK AND UNLESS OTHERWISE STATED, ARE NOT GUARANTEED. BE SURE TO FIRST CONSULT WITH A QUALIFIED FINANCIAL ADVISER AND/OR TAX PROFESSIONAL BEFORE IMPLEMENTING ANY STRATEGY DISCUSSED HEREIN. THE TACTICALSHIFT™ STRATEGY MAY GENERATE A TAXABLE EVENT IN NON-QUALIFIED (TAXABLE) INVESTMENT ACCOUNTS. PLEASE CONSULT YOUR TAX ADVISER. PAST PERFORMANCE IS NOT INDICATIVE OF FUTURE PERFORMANCE.  MoneyGuidePro®  is a registered trademark of PIEtech, Inc. All rights reserved.